S55C(N)
Characteristics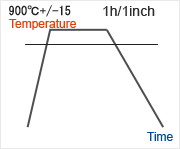 Normalizing
JFE S55C(N) carbon steel plate is done the heat treatment of "normalizing", so the steel structure has uniform and less stress, it'll help you to lower the processing strain. Shore hardness is kept Hs 30+/-2, so it is easy for cutting and hole making.

Page top

Size
Thickness
13/16/19/23/25/28/33/35/38/43/45/50/53/55/60/65/70/75/80/85/90/95/100/
105/110/115/120/125/130/136/140/146/150/156/166/176/186/196/
206/216/226/236/246/256/266/286/308
Width.Length
1524x3048,1800x4000,1829x4030,2000x4000,2000x3400

Page top
Notice
While every effort has been made to ensure the accuracy of the information contained within this website, the use of the information is at the reader's risk and no warranty is implied or expressed by this website with respect to the use of information contained herein.The information in this website is subject to change or modification without notice.Please contact our company for the latest information.
Please feel free to contact us
ZIP: 559-0032
5-26, 5-Chome, Nankominami, Suminoe-ku, Osaka, JAPAN